Paint & Wine
Class Calendar
& Sign Up

"Our paint, Your wine, One fun time!"
Private painting party packages available for friends, families, artists, businesses, charities, brides, associations and other organizations.
You can also rent our 1700 sqf studio as a venue for an art showing, concert, seminar, workshop, or other event. Special pricing applies, please contact us at 713-409-3373 or info@paintandwine.com for details!
Prior to the Painting Event
*available 7 days a week, day or night.
*10 person minimum, 40 person maximum
*$40 per participant, 3 hr. session
*secure pay link for each party host to forward
*no deposit require ($150 deposit for businesses)
*10 payments must be processed 14 days prior to the event.
*choose from one of our paintings in the gallery or have us create a custom design for your party, at no charge!
*local catering as well as live music can be arranged "at cost"
During the Event
*doors open 30 mins prior to start time.
*guests of your party must be fully paid to enter
*bring all of the beverages and snacks you want
*all art materials, use of space, aprons, cups, corkscrews, and excellent instruction provided.
After the Event
*participants keep their very own painting
*you clean up your food and drink mess, we clean up all the brushes and paint mess!
Hidden Private Party Link Sign-Up (example)
Click here to see what your announcement will look like and to find out more about our offer!
Your Own Private Party or Event!
$40.00 per participant, 10 minimum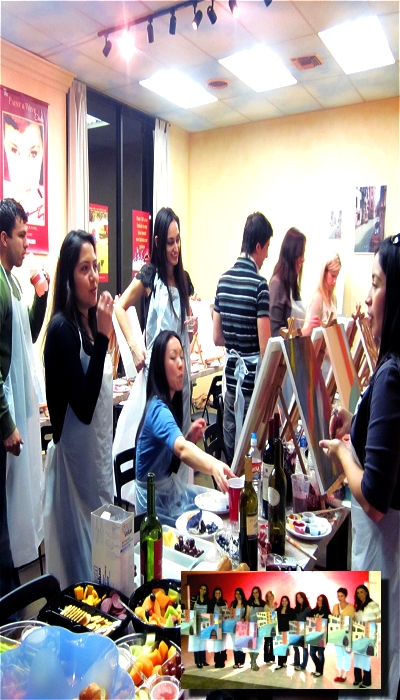 Three Hour Painting, Acrylic on Canvas
Free custom design for your group!